ABOUT THE ARTIST
Robin was born in upstate New York in 1961 and moved to Western New York with her family. She grew up surrounded by areas with great beauty including Niagara Falls and Letchworth State Park. The New York School system provided a comprehensive arts program which planted the seeds of her art career. Her family moved to central Maine in the mid 70's when her father accepted a position with the state YMCA.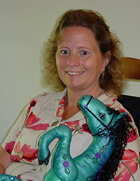 While attending Springfield College in Massachusetts, Robin participated in many elective art courses. She received much encouragement from instructors, family and friends to continue. The medium she uses is pen and ink with a water color wash. The initial inking is completed with a quill style pen, which provides a very fine line.
Her paintings depict many New England scenes as well as whimsical and imaginative renderings. She enjoys hiking and has also logged many miles kayaking the lakes and coastline of New England. These journeys have provided much inspiration for her paintings.
Robin is also creating sculptures that resemble three dimensional paintings. She designs a pattern freehand and uses canvas to create the body. Layers of paint are applied and various embellishments are used for accents. Since their creation, Robin has won many state and regional awards. They have also been exhibited in several museums in New York, Cape Cod, and Maine. The turtle sculptures are created with fabric and clay. One customer commented while walking into Robin's booth that she felt she was walking into "Wonderland."
During the summer and fall, Robin participates in many New England art shows. She enjoys the interactions with her customers and the many talented artists she encounters.
Her artwork is in collections worldwide. She recently finished a 5 year term as a board member for United Maine Craftsmen.