Prints, Pins, Cards, Magnets
Every item on this website is handcrafted by Robin from her own copyrighted designs. Due to the handmade nature of the products, slight variations may occur within the design.
PRINTS: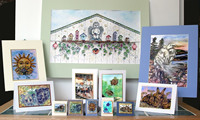 These images are beautifully reproduced on acid free card stock paper. The 8" by 10" prints are limited edition, signed and numbered. 6" by 4" prints are framed and also signed. Cost of the 8" by 10" prints are $15.00 and 6" by 4" are $8.00
ART PLAQUES: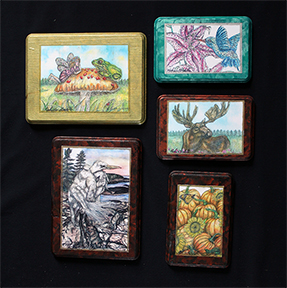 All images are now available mounted on handpainted plaques and coated with a transparent resin.
5"x7" plaque - $20
6"x4" plaque - $12
PINS AND MAGNETS: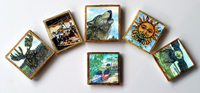 Robin's popular paintings are now reproduced as wearable art work. Each pin and magnet is carefully crafted by hand and is signed on the back. A waterproof gloss is applied to protect the image. The sizes vary, but mostly are around 1 by 2 1/2 inches. They are sturdy but lightweight.
Click on the images below to see the artwork in each category.